How to Set Default Image Sizes in WordPress
Default Image Sizes
WordPress offers four sizes to choose from for displaying your images: thumbnail (150 x 150), medium (300 x 300), large (1024 x 1024) and full size (the full size of a certain chosen image). You may want to change these default image sizes, for example if you want to make your images the exact same width as your content or to make images fit in your chosen WordPress theme. You can certainly change the maximum dimension of the images diplayed on your posts and pages. Our tutorial helps you to make different default image sizes for your WordPress site or blog. If you don't know how to add images to posts, click here.
How to set default images sizes in WordPress
To determine the maximum size of (thumbnail, medium and large) images in your WordPress Media Library, start by opening your WordPress dashboard. You see the word 'Settings' in the vertical list of words running down the left side of the homepage.

Click or hover over 'Settings' and you will see several categories to choose from.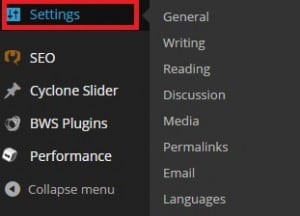 Click 'Media'.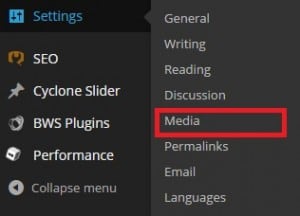 To set default image sizes, look at 'Image sizes' and determine the maximum dimensions. Click 'Save Changes' to save the changes you have made.