How to Add a Post in WordPress
Posts in WordPress.
In WordPress, you can write posts or pages. A regular blog entry is a post and posts normally appear in reverse chronological order on your homepage. Pages are for content such as 'about', 'contact', disclosure', 'legal information', 'reprint permissions', 'company information', 'privacy policy', etc. Pages live outside of the blog chronology and are often used to present timeless information that is always applicable. You can use pages to manage and organize any content. Posts are for regular updates and new information. In the following tutorial, we explain how you can add posts and edit posts in WordPress. If you want to know how to add images to a post in WordPress, click here . If you want to create a menu in WordPress, click here. To add posts or pages to that menu, click here.
How to add a Post in WordPress
Adding a post in WordPress is very easy. Start by opening your WordPress dashboard. You see the word 'Posts' in the vertical list of words running down the left side of the homepage

Click or hover over 'Posts' and you will see several categories to choose from.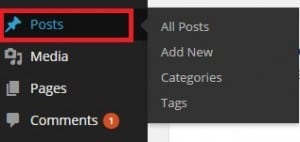 To add a post in WordPress, simply click 'Add new'.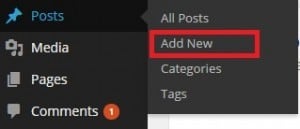 The following window will appear. You can type in a title for your new post in the top white bar and create your content in the space underneath. You can add pictures with the 'Add Media' button.

If you want to post your newly created post, click 'Publish'. If you are not ready to post it yet, you can already save it as a draft by clicking 'Save Draft'. If you want to preview your post before posting it, click 'Preview'. If you are not happy with your post at all, click 'Move to Trash' and start over.