How to make a Post or Page Private in WordPress
Why private?
It could occur that you do not want a post or page to be publicly visible (at first). You may want to edit the post or page first until you are happy enough to make it public for others or you may no longer be happy with an already publicly published post or page. It could also be the case that you simply want to reserve a post or page for your eyes only and for the eyes of other authors of the site or blog. In the following tutorial, we explain how to publish a post or page privately.
Make a post or page private in WordPress
In order to make a post or page privately before or after making it publicly visible, you must first open the specific page or post that you want to make private. In this example, we show you how to make a post privately visible in WordPress. The same process applies for making a page private. Just open the specific page instead. Start by opening your WordPress dashboard. You see the word 'Posts' in the vertical list of words running down the left side of the homepage.

Click or hover over 'Posts' and you will see several categories to choose from.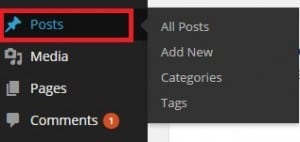 Click 'All Posts' to make an existing post privately visible or Click 'Add New' to create a new – private – post.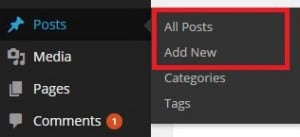 If you want to make an existing post privately visible, first select the respective post (click the title or hover over the title and click 'Edit') and the following window will open (probably already filled in with a title, text, images, …). If you want to make a new post private, the window (empty) will open immediately. In both cases you can see: 'Visibility: Public' in the right column. Click the 'Edit' button next to it.

Select Private (or Password protected). Click 'OK'.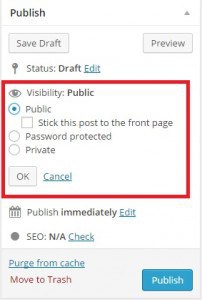 Your post is now not publicly visible, but only privately visible for logged in users. Click 'Update' to save the changes you have made. If you want to change the status back to public, click 'Edit' next to 'Visibility: Private', select 'Public' and click 'OK'. Click 'Update' to save the changes you have made.